KNEE REPLACEMENT SURGERY AND DISABILITY BENEFITS
ELIGIBILITY FOR DISABILITY BENEFITS AND KNEE REPLACEMENT SURGERY
Knee replacement surgery can result in winning disability benefits if you can no longer work. Especially, if you have chronic pain and cannot work for longer than 12 months. Typically, over 600,000 knee replacement surgeries are performed every year in the United States. Sometimes people undergo double knee replacement surgeries.
Knee replacement surgery is one of the most successful joint replacement operations. However, for a certain percentage of people, knee replacement may not work. Research suggests approximately 20% of those who have a total knee replacement, experience chronic pain.
If you have ever had surgery, you know pain doesn't disappear after the operation. In fact, even with surgery, you may still have major problems with pain. Problems occur when the pain prevents you from working. It may also prevent normal activities, like standing or sitting. Chronic pain may result in the inability to walk. If you can't walk or stand for prolonged periods, you may not be able to work. You may even have knee pain and swelling when sitting. Sedentary work requires sitting. If you cannot stand, you can't perform light work. Similarly, if you cannot sit, you cannot perform sedentary work. Therefore, you should apply for benefits.
At Cannon Disability Law, we see clients who did not recover after surgery. Knee surgery results in disability if you suffer from chronic pain and you need two canes or a walker to walk. The SSA applies their regulation, Listing 1.17, to determine eligibility for disability benefits. Listing 1.17 refers to reconstructive surgery of a major weight bearing joint. In other words, it applies to you if you have knee replacement surgery.
KNEE REPLACEMENT SURGERY AND WINNING SSD UNDER LISTING 1.17
RECONSTRUCTIVE SURGERY  OF A WEIGHT-BEARING JOINT
In order to win disability benefits, your impairment must meet or equal a listing. Meeting a listing means having all the criteria on the list. Equalling a listing means having a combination of symptoms that are as severe as those in the listing.
If you did not recover from knee replacement surgery, your knee impairment may qualify for benefits under the listings. The phrase "major weight-bearing joint" basically means a joint you need to stand and walk. Knees, hips, and ankles, all fall into the  category of a major weight-bearing joint.
Most joint surgeries do not result in disability. The reason for that is most people recover after surgery in under one year. To receive disability benefits, you must have at least one year of disability to be found disabled. This means that you cannot be working for over 12 months.
Listing 1.17 for reconstructive surgery or surgical arthrodesis of a major weight bearing joint is outlined below:
1.17 Reconstructive surgery or surgical arthrodesis of a major weight-bearing joint (see 1.00H), documented by A, B, and C:
A. History of reconstructive surgery or surgical arthrodesis of a major weight-bearing joint.
AND
B. Impairment-related physical limitation of musculoskeletal functioning that has lasted, or is expected to last, for a continuous period of at least 12 months.
AND
C. A documented medical need (see 1.00C6a) for a walker, bilateral canes, or bilateral crutches (see 1.00C6d) or a wheeled and seated mobility device involving the use of both hands (see 1.00C6e(i)).
The definition of ambulating effectively is found in SSA's regulations.
WHAT DOES THE SSA MEAN BY "AMBULATE EFFECTIVELY"?
SSA's regulations contemplate a very specific definition of effectively ambulating or walking.  The old SSA listing 1.02B states:
Inability to ambulate effectively means an extreme limitation of the ability to walk; i.e., an impairments that interferes very seriously with the individual's ability to independently initiate, sustain, or complete activities. Ineffective ambulation is defined generally as having insufficient lower extremity functioning to permit independent ambulation without the use of a hand-held assistive devices that limits the functioning of both upper extremities.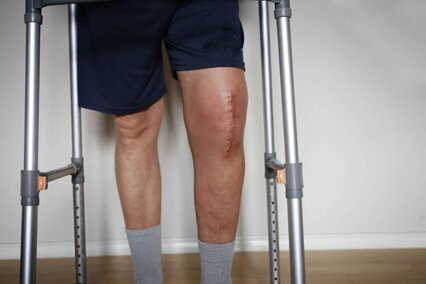 The regulations goes on to say:
To ambulate effectively, individuals must be capable of sustaining a reasonable walking pace over a sufficient distance to be able to carry out activities of daily living. They must have the ability to travel without companion assistance to and from a place of employment or school. Therefore, examples of ineffective ambulation include, but are not limited to:
the inability to walk without the use of a walker,
two crutches or two canes,
inability to walk a block at a reasonable pace on rough or uneven surfaces,
the inability to use standard public transportation,
unable to carry out routine ambulatory activities, such as shopping and banking,
and the inability to climb a few steps at a reasonable pace with the use of a single hand rail.
The ability to walk independently about one's home without the use of assistive devices does not, in and of itself, constitute effective ambulation. However, the SSA is focusing their rules on walking. Needing a cane or walker to walk is very important. If you require a two canes or a walker, you may meet their rules.
WHAT DOES THE SSA MEAN BY "ASSISTIVE DEVICE"?
Now, the SSA's new regulations focus on whether you need an assistive device to help you walk. An assistive device, for the purposes of these listings, is any device that you use to improve your stability, dexterity, or mobility. An assistive device can be worn (see 1.00C6b and 1.00C6c) orhand-held (see 1.00C6d). It can also be used in a seated position (see 1.00C6e).
When the SSA uses the phrase "documented medical need," they mean that there is evidence from a medical source that supports your medical need for an assistive device (see 1.00C2b) for a continuous period of at least 12 months (see 1.00C6a). This evidence must describe any limitations you have in your upper or lower extremity functioning.
Your records must also explain the symptoms that show you need to use a cane or walker. However, the SSA does not require that you have a specific prescription for the assistive device. By focusing on the need for an assistive device, the SSA has shown they are concerned about the inability to work while, at the same time, using a device like a cane to stand and walk. It is common sense to note that if you are using your hands to support yourself, because you cannot use your legs to do so, then you cannot use your hands to work.
DISABILITY AFTER KNEE REPLACEMENT SURGERY 
If you have not returned to work after you knee surgery, you may be disabled. In order to prove disability, you should hire a law firm that specializes in disability. Cannon Disability is that firm. We have over 30 years of legal experience representing disabled individuals. Also, we have won over 20,000 SSD cases. Therefore, we know what it takes to prove disability to the SSA.  We want to help you win. Also, we have won over $100 million in ongoing disability benefits for our clients. You do not want to go to court alone.
It is our job to help you obtain the medical evidence you need to win benefits. At Cannon Disability Law, for example, we can help you apply for SSD benefits and appeal an SSA denial. You only have 60 days to appeal a denial from the SSA. So, don't delay.  You do not want to miss an appeal deadline. Call our office. We will help you appeal. In fact, we can answer your questions over the phone at no cost to you.
CONTACT CANNON DISABILITY LAW AFTER KNEE REPLACEMENT SURGERY
It is always our goal to win disability benefits for our clients. Your ability to care financially for yourself and your family relies upon the results of your SSD case. Additionally, your ability to receive Medicaid and also Medicare depends upon whether or not you are successful with your disability claim. Even your future retirement benefits are at risk if you do not win SSD benefits.
You need to hire an SSD attorney with the experience to win benefits for your medical condition. We bring 60 years of combined experience to your disability case. For example, Dianna Cannon has been representing people with disabilities for over thirty years. Brett Bunkall and Andria Summers also have many years of litigation experience representing clients in disability hearings. We represent clients in Utah, Nevada, Idaho, and California. You can trust that our representatives will do everything they can to win your SSD and SSI benefits. We want to be your SSD and SSI disability legal team. Contact us today.
THE BEST SSD ATTORNEYS ARE WAITING FOR YOU TO CALL
We will use our skills to help you through the disability process. It is our goal to win your case. But, it also our goal to make it easier for you. We offer a free consultation. There is no obligation to become a client if you call. You can simply ask questions. We will answer. That is what we are here for. We will try to help you, even if you don't become our client.
It also doesn't cost you any money to hire us. Why? Because you only pay us an attorney fee if we win your case. This is a contingency fee. It means if we win, you pay us out of your back benefits. If you do not win, you do not pay an attorney fee. How much is the fee? It is 25% of your back benefit. Also, the fee is capped at $6000. You never pay more than the cap. And, the 25% fee is the more likely fee. It is usually less than the cap. You pay the lesser amount.
If there are costs in your case, then you pay for those costs. But, the costs are usually less than $100. Usually, the only cost you will have is to pay for is a copy of your medical records. We pay this fee to your doctor. And, we only charge you what the doctor charges us. You owe costs whether we win or lose. Again, attorney fees are paid from your back benefit. But, to hire most lawyers, you have to pay upfront. We don't work like that. You don't have a job. So how can you pay? The only way to pay us is for us to win your case.